CHENNAI: Pongal this time round is going to be a costly affair. The prices ofsugarcaneand mostvegetableshave shot up because of the vagaries of theweather.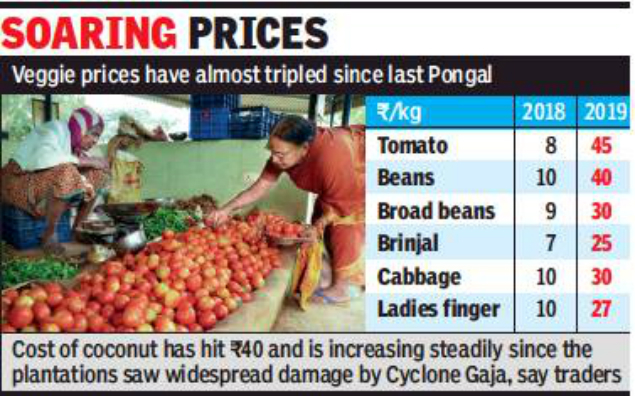 Among the Pongal staples, sugarcane costs Rs 450 for a bundle of 18 to 20 stalks. Sellers blame the high prices on loss of crop caused by early onset of the monsoon, worsened by insufficient rain later in the season. Last year, the upper limit for sugarcane was Rs 350 a bundle.
"Around 600 truckloads have arrived so far and 500 more are expected in the next few days. The market is currently selling the produce at a fair price, which will come down further to Rs 150 for a bundle in the next few days" said an official at the Koyambedu Market. He said the trucks were mostly coming from Melur, Erode, Villupuram, and Cuddalore and from a few places in Andhra Pradesh.

On Sunday, loads of trucks arrived early in the morning at Koyambedu with sugarcane, turmeric, and bananas ahead of Pongal. Turmeric was sold at Rs 20 to Rs 50 with Rs 40 being the standard price for a bundle of 8-12 pieces. Ginger was sold at Rs 30 to Rs 40 for a bundle of 4-5 pieces. "The price of turmeric and ginger has not increased unexpectedly", said Vinayagamoorthy, a retail trader from Ennore. Dry coconuts were sold at Rs 35 to Rs 40, well within expectations, but tender coconuts were dearer as supply has been affected this time.
However, vegetable prices, especially that oftomato, beans, andbroad beanshave gone up considerably this Pongal season. A colder than expected winter has hit arrivals of these vegetables at Koyambedu.
Cyclone Gaja is responsible for the short supply of coconuts as lakhs of trees were uprooted in Thanjavur, Tiruvarur, Nagapattinam and Pudukottai districts. Supply from these districts is zero, said Koyambedu fruits, vegetables and flowers merchants welfare association treasurer P G M Sukumar.
Explaining the reason for hike in prices of tomato, he said three months ago the tomato yield was very high but the farmers were unable to get a good price. It fetched only Rs 8 per kg. As a result, many farmers switched to growing other vegetables. Unusually cold weather in the southern states further reduced the tomato yields.