NEXT plc (LON:NXT) has earned a consensus recommendation of "Hold" from the twenty-three analysts that are presently covering the company, MarketBeat.com reports. Ten analysts have rated the stock with a sell recommendation, ten have assigned a hold recommendation and three have given a buy recommendation to the company. The average 1 year target price among brokers that have updated their coverage on the stock in the last year is GBX 4,490.07 ($58.67).
Several research firms recently weighed in on NXT. Royal Bank of Canada lifted their price objective on shares of NEXT from GBX 6,300 ($82.32) to GBX 6,700 ($87.55) and gave the stock an "outperform" rating in a research note on Wednesday, July 18th. Shore Capital reissued a "hold" rating on shares of NEXT in a research report on Monday, July 30th. Liberum Capital reissued a "hold" rating on shares of NEXT in a research report on Wednesday, August 1st. UBS Group started coverage on shares of NEXT in a research report on Tuesday, September 18th. They set a "buy" rating and a GBX 6,600 ($86.24) price target on the stock. Finally, Deutsche Bank reduced their price target on shares of NEXT from GBX 5,450 ($71.21) to GBX 5,400 ($70.56) and set a "hold" rating on the stock in a research report on Thursday, August 2nd.
Shares of LON:NXT traded up GBX 14 ($0.18) during midday trading on Thursday, hitting GBX 5,134 ($67.08). The company had a trading volume of 303,971 shares, compared to its average volume of 625,680. NEXT has a 12 month low of GBX 3,565 ($46.58) and a 12 month high of GBX 5,355 ($69.97).
The business also recently disclosed a dividend, which will be paid on Wednesday, January 2nd. Investors of record on Thursday, December 6th will be given a GBX 55 ($0.72) dividend. The ex-dividend date is Thursday, December 6th. This represents a yield of 1%.
In related news, insider Richard Papp sold 1,100 shares of the business's stock in a transaction on Thursday, August 9th. The shares were sold at an average price of GBX 5,713 ($74.65), for a total value of £62,843 ($82,115.51).
About NEXT
NEXT plc engages in the retail of clothing, footwear, accessories, and home products in the United Kingdom, rest of Europe, the Middle East, Asia, and internationally. The company operates in six segments: NEXT Retail, NEXT Online, NEXT International Retail, NEXT Sourcing, Lipsy, and Property Management.
See Also: How to invest in a bear market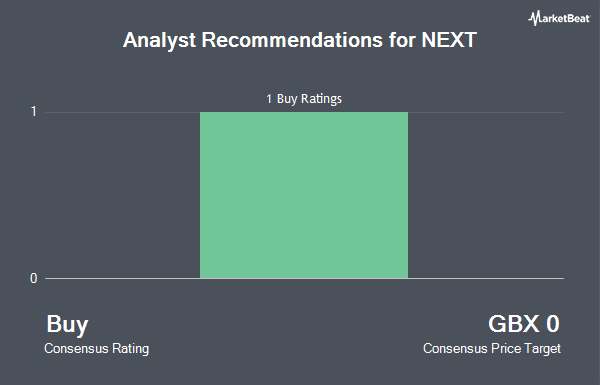 Receive News & Ratings for NEXT Daily – Enter your email address below to receive a concise daily summary of the latest news and analysts' ratings for NEXT and related companies with MarketBeat.com's FREE daily email newsletter.